I'd like to THANK all of those who have given me blog awards in the past and now to Moo Two Designs for the Gold Star Blog Award.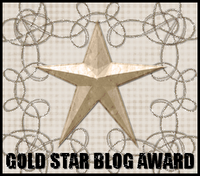 Now I get the honor of passing the star onto those of you that are deserving of it...now you know there are so many out there deserving, that this is a tough call, so, here I go....
The rules for this award are as follows:
If you receive this award, you must pass it on to 3 other blogs.
If you have already received this award, you don't need to pass it on.
You must post on the chosen winners blogs to let them know about the award.
1.
Carla Ware
2.
TravlynWomyn Vicki
3.
Munchkinscraps' Jody
Special thanks to Vicky at
Moo Two Designs
for this award! :)